If your friends and family would rather stand than take a seat on your jack knife sofa then you have a problem. Jack Knife sofas offer excellent value for money.
Their low cost and good quality often make them a popular choice for RVs and even in the home. However, despite their popularity, there are some people who feel as if they can get more comfortable sitting on a cold and bare stone slab.
But why do people feel this way? This article will show you how to make a jack knife sofa comfortable for anyone.
What Is a Jack Knife Sofa Anyway?
The Jackknife sofa is a one-of-a-kind sofa design that takes the idea of a sofa and makes it portable. Its defining feature is that it is so thin that it folds up to look like a skinny knife.
This type of sofa is found in a majority of RVs because the manufacturer can squeeze them into nearly any location. When unfolded, the structure forms a surface that you can sit on or it can be converted into a bed.
Also Read: How to Build a Jack Knife Sofa?
What Makes a Jack Knife Sofa So Uncomfortable in the First Place?
On the face of it, the jackknife sofa is an excellent piece of furniture. However, many people simply do not find the experience of sitting on one to be comfortable.
They might be too tight
They might not be able to move their arms comfortably
In some cases, they might have a curved back or too high of a back to place their buttocks comfortably.
Bringing Ultimate Comfort to A Jack Knife Sofa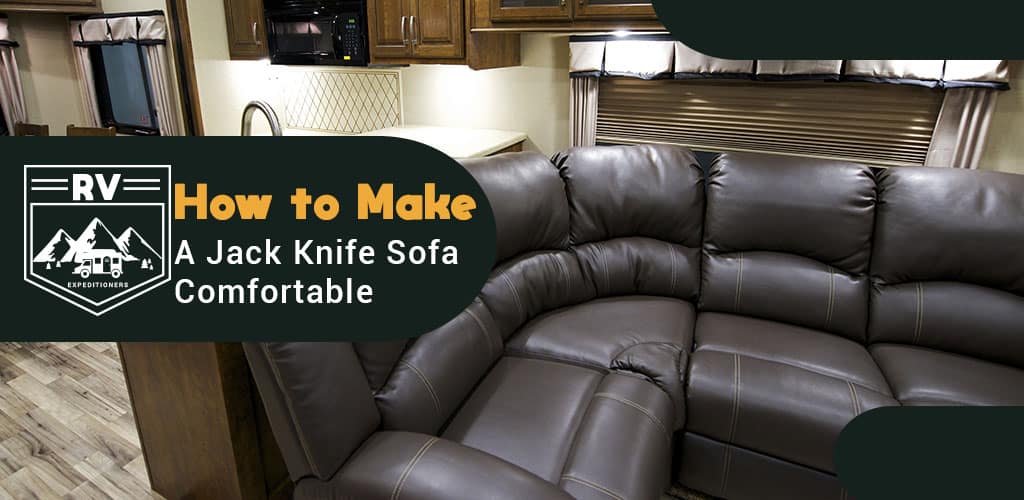 Use Quilts
This is one of the best ways to add some comfort to your jack knife sofa, while still being able to provide excellent protection against the elements.
If you don't want to go to the expense of buying a real quilt then you can pick up a smallish one from nearly any home store. If you have quilting skills you can always make the perfect size quilt for your needs.
Use Egg Crate Foam Padding
The main cause of discomfort while sitting on a jack knife sofa is the lack of cushioning. Egg crate foam is the most popular foam padding used in jackknife sofas.
You can purchase custom egg crate foam for jackknife sofas from most fine furniture stores or even online. Alternatively, you can make your own padding by using materials that you can find in thrift stores.
Make Your Own Custom Sofa Pad
All you need for this method of making your own jack knife sofa padding is the following:
A foam mattress.
Various colors of upholstery fabric.
A good pair of scissors.
Sewing machine or a tailor
If you can't get hold of these materials then the best you can do is search in your local DIY stores for foam mattresses. However, if you can find them, the foam mattresses are generally cheap. It's better to go for a good quality foam so you and your guests will be comfortable.
Use Pool Noodles
One of the most effective ways of making any sofa comfortable is to change the shape. If you have pool noodles, you can simply lay them over the cushions to change the shape.
Some people just place the pool noodles on top of the couch and it looks like a normal sofa. The pool noodles provide a nice cushion that offers comfort when sitting on it. If you have sewing skills you can customize the noodles to your liking.
What is Best for Covering a Jack Knife Sofa?
Slipcovers have proven to be a really great way to cover a jack knife sofa. This is because:
They are highly customizable
Relatively inexpensive
Come in a wide variety of materials and fabrics
Let's you express your personality
The best part about slipcovers is the fact that they fit rather well as long as you measure out the sofa carefully. If you know of an upholstery shop or have the skills, you can always design and make a slipcover of your own.
Will a Futon Cover Fit a Jackknife Sofa?
A futon cover is a great way to protect and repair a low-quality futon, but it might not be the greatest fit for a jackknife sofa. Futons come in a rather standard size and shape, while jack knives can be nearly any shape or size.
We would say that you can certainly try a futon cover on your Jack Knife, but it will probably fit pretty tightly and look a bit ill-fitting.
Can the Gap Between the Back of the Sofa and Seat Be Filled With Pillows?
We would definitely agree that one option to consider is adding pillows between the sofa and seat gap. The problem with this option is that there is the potential for the pillows to move around if the weather changes.
Additionally, if you have a dog, you may have to wash these pillows frequently. Just be sure the pillows actually fit the space and that they will be firm enough to do the job.
Another issue is that this option would not allow for as much space to be used as the original sofa. So, for this and other reasons, the gap between the sofa and seat is sometimes better left empty.
Conclusion
Thanks for reading through the end of our article on how to make a Jack Knife sofa comfortable. Whether in an RV or house, you and your guests should be as comfortable as possible when using these sofas. You should look no further than this article for a jackknife sofa that will provide you with comfort and convenience.
Recommended Readings: