Fifth-wheel trailers are a great option for adventuring motorists. RV manufacturers are wise to the benefits of fifth wheels and we enjoy a huge selection to choose from as a result. Unfortunately, the manners of measuring fifth wheels are about as varied as the models themselves.
Knowing your fifth wheel measurement is critical in giving you the maneuverability to visit all the sites important to you. This guide will break down how you can accurately measure the fifth wheel and which fifth wheel is right based on your needs.
How You Can Find a Fifth Wheel's Measurement
Fifth wheel length is a subjective measure, with manufacturers and dealers commonly disagreeing on the definition. While shopping for your fifth-wheel trailer, it is essential to review certain information to understand the exact length of each model.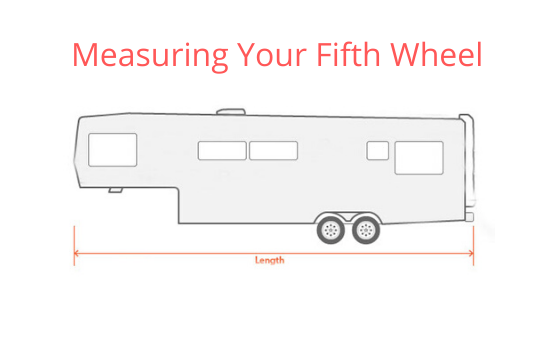 The manufacturer's information is an important primary reference point because it contains the most detailed and accurate specs. They can break down several measurements to help you determine how much livable space it contains and its towing profile. A common length measures from the back bumper of the trailer to the hitch, giving you an idea of how easy it will be to maneuver.
If you see inconsistencies or omissions in the manufacturer's measurements, online forums are a great source of information. Searching the make and model of your desired fifth-wheel trailer will usually yield owner discussions that answer a lot of common questions. Plus, if you have a unique or specific question, users on these discussion boards are often quick to lend a hand.
The best way to get an accurate fifth wheel measurement is to get it yourself at a local dealership. Bring your tape measure and get the dimensions you need.
Why It Matters
Fifth wheel trailer dimensions are as important as their features. Depending on the campgrounds and sites you plan on entering, your fifth wheel's size may prevent you from accessing important parts of your itinerary.
Major campsites are usually accommodating for the largest fifth-wheel trailers but smaller areas and tight roadways can be limiting. If you plan to explore the depths of many of our national parks, you may have trouble with a decked-out 45-foot trailer.
Also Read: Gooseneck vs 5th Wheel
Trailer length can also affect your wallet when it comes time for storage. Campgrounds can potentially charge you more for your space, and when the season ends, storage facilities will likely charge more for longer trailers.
Which Fifth-Wheel Length Is Right for You?
Fifth wheel length is a series of tradeoffs in comfort and maneuverability. Longer trailers have the benefit of being able to supply more features and space to make it feel more like home. Kitchens can have larger appliances and more countertop space, bedrooms can fit king beds and living rooms can fit sofas and big-screen TVs. When you start seeing the possibilities, it can be easy to get carried away.
The downside to all of this is access and compatibility. If you do plan to venture into scenic national parks, be aware that many campgrounds do have length limits. This can be helped to a degree if you can remove your towing vehicle from the lot but that is not always sufficient. In general, if your fifth-wheel trailer is less than 30 feet long, you should be able to access the majority of campgrounds and parks.
What Fifth-Wheel Weight Is Right for You?
Longer fifth wheels are usually heavier fifth wheels, and it is important to know exactly how much it weighs before buying. If you already own a towing vehicle, like a pickup truck, you need to understand its towing capacity, its maximum allowable weight. Without this information, you may buy a trailer that is too heavy for your truck or your belongings.
The manufacturer often provides all of the information needed to determine if your truck and trailer are compatible. To start, trucks have a maximum trailer rating that needs to be greater than the trailer's gross vehicle weight rating (GVWR), which can be found on the trailer's VIN tag.
Other calculations involve comparing the truck's maximum payload with the cargo carrying capacity and tongue weight of the trailer. This ensures that you can use your trailer exactly as you intend.
What Is the Maximum Length of a Fifth Wheel Trailer?
An overlooked aspect of buying a fifth-wheel trailer is considering state laws around the maximum length. Every state has unique limits to various trailer dimensions. Before buying a trailer, it is critical to plan your travels and research the different trailer dimension limits by state.
Understanding the length of your fifth-wheel trailer is critical in ensuring your travel and adventure plans are possible. With this information, you will know that all of your destinations will be accessible and your truck can keep up with the towing demands. For more great information on planning your next RVing adventure, be sure to follow our blog.
Recommended Readings: